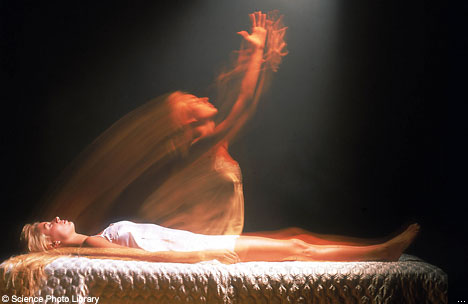 I read an article recently about death-bed experiences, written by "grief counselor" David Kessler for Oprah.com (don't ask me why). The first lines piqued my interest:
Throughout my years of working with the dying and the bereaved, I have noticed commonly shared experiences that remain beyond our ability to explain and fully understand.
I will be showing excerpts from the rest of this article throughout this post; my goal is to show how those not versed in science can not seem to make any sense of scientific explanations. We will look at why his arguments of the "unexplainable" are considerably lacking. Let me preface by saying I do not seek to belittle any deathbed experience; they help to comfort many unfortunate people. However, this comfort is a result of certainly explainable origin, and Kessler surely has a religious bias that skews his judgment on what is considered "unexplainable".
Let's look at his arguments below.
"So I Got That Going For Me, Which is Nice"
So let's get the afterlife debate out of the way. As of right now, there is no empirical way to determine is there is indeed an afterlife. With that said, the
scientific view is that the likelihood for an afterlife is very low; most often relegated to some sort of religious belief. I will be taking the empirical approach to explain death-bed visions, without resorting to supernatural phenomena like Kessler does.
Let me make it clear that I am not saying these visions do not happen, or do not have significance. I completely agree that they play a huge role in the process of death. But I argue that these visions are not the manifestation of any sort of divine gates opening up for you.
Kessler begins with an anecdote about how is father became comforted in believing that once he passed away, he would be reunited with his wife. He then begins his argument with one of the weakest forms of evidence: anecdotal.
I can't prove to you that my father's vision was real. I can only talk about my experience as a son and about countless other occurrences that take place every day.
Anecdotal statements like this one are never sufficient evidence to support phenomena. Just imagine the bias involved, the unreliability of memory, and the subjective nature of the testimony. This type of evidence is similarly why  Bigfoot and UFO's are not considered plausible. Let's give him another chance to convince us on the unexplainable nature of deathbed visions:
"Some interesting and unexplainable items about deathbed visions:"

Visions people experience at the end of life are remarkably similar.
The dying are most often visited by their mothers. It shouldn't be too surprising that the person who is actually present as we cross the threshold of life and take our first breaths once again appears at the threshold as we take our last breaths.
Hands passionately reaching upward to some unseen force is witnessed in many deathbed encounters.
Visions mostly occur toward a corner of the room.
Those family members at a deathbed are not able to see the vision or participate in the conversation.
Visions usually occur hours to weeks before death.
Visions don't seem to appear in other frightening situations where death is not likely, such as stuck in an elevator, lost in a foreign city or lost hiking.
Unlike traditional health care, the law treats a dying person's last words as the truth.
Let's take these in order and see if they stand up to scrutiny:
The "remarkable" similarity between visions is exactly what you would expect if the visions were caused by a chemical reaction (explained in the next section), or perhaps something else in common to the dying like religious upbringing or the cultural meme of the "light at the end of the tunnel". When we are starting from a place of rationality and empiricism, these explanations aptly sidestep the need for an alternate reality which is far less likely.
The fact that mothers appear to the dying does not lend any more weight to Kessler's argument. It seems understandable to me that if you were going to hallucinate something to comfort you, an image of your mother would be pretty good at that.
Here Kessler is inferring that some spiritual force is making this happen. The "unseen force" someone would be reaching towards is much more likely to be a reaction to the hallucination, and not to a god. You can clearly see his bias towards a supernatural explanation here.
Just anecdotal information here.
Of course they cannot! whether is was just a hallucination (as science suggests), or a spirit (however unlikely), the family would not be able to interact. This is an example of a non-argument.
Seemingly just anecdotal information, but if we accept that religion says that we are visited by spirits right before we die, this seems to cast doubt on that idea.
Visions are not triggered by fearful situations such as being lost, more so by brain trauma or oxygen starvation (explained in the next section).
The law? I guess that he means religion's laws treat a person's last words as the truth. I certainly hope that when I am on my deathbed, murmuring incoherent babble because I'm about to cease all biological function, that no one takes my words literally.
Another thing to remember is that this man sells a lot of books based upon his considerably religious views. I think selling books about the legitimacy of the afterlife (with no proof) to the religious folk sounds like a stellar business plan (if you are so inclined). I am certain that his frequent use of the word "unexplainable" is there to keep the mystery alive, to keep "possibilities open", to keep his job. But science is closing in fast.
Let's take a look at how science interprets these near death visions.
Real, Powerful, Explainable
We will look at explanations for a few common symptoms of the near death experience (NDE). Namely, floating above your body, calmness, and spiritual communication.
Firstly, think about the nuanced power of your sensory input. Try this little experiment for yourself: close your eyes and place your hand in front of you at your head level. Open your eyes. Is your hand exactly where you envisioned it to be? It certainly is because of the powerful sensory interactions interpreted by your brain. But what if there was a mechanism of trauma (dying) that could disrupt these signals that construct your idea of space?
The body's spatial sense is prone to malfunction during a near-death experience. Your brain interprets faulty information about where the body is in relation to the space around it. The result is the sensation of leaving the body and flying around the room. Combined with other effects of trauma and oxygen deprivation in the brain (a symptom in many near-death situations), this leads to the overall experience of floating into space while looking down at your own body, and then leaving to float down a tunnel.
Next, calm sensation felt during NDEs may be a coping mechanism triggered by increased levels of endorphins produced in the brain during trauma. Many people experience a strange sense of detachment and a lack of emotional response during traumatic events (whether or not they were related to a near-death experience). This is the same effect.
NDEs that include visits to Heaven or meetings with God could involve a combination of several factors. Faulty sensory input, oxygen deprivation and endorphin-induced euphoria create a surreal, though realistic, experience. When the subject recalls the encounter later, it has passed through the filter of his conscious mind. Bizarre experiences that seem unexplainable become "spirit beings", "other dimensions", and "conversations with God". In addition to this, a study last april into the factors that generate NDE's reviled that very high levels of carbon dioxide in the blood produced all of the aforementioned sensations, regardless of age, sex, race, or religion. What one person would see as strangers, another might see as angels. The similarities between NDE's would certainly confuse the Christian who had the same image of heaven as the Hindu.

Near death experiences are profound and wondrous experiences, but despite the intense and profound emotions and experiences they arouse, they are nonetheless conscious sociocultural determined hallucinations generated by life-threatening experiences. The consistency of these experiences is rooted in the commonality of human body function, as well as the fundamental sociocultural desires of all people regardless of race or sex.
Pushing Up Daisies
I will leave you with another example of the kind of non-argument that is made for the spiritual nature of near death experiences. This comes from Kessler, and here he tries to explain the afterlife:
Now fast-forward 70 years after you, yourself, have passed away. What if there really is an afterlife and you receive a message that your son or daughter will be dying soon? If you were allowed to go to your child, wouldn't you?
Remember, that is supposed to be convincing. It sounds like this to me:
"Hey if you were a ghost, and you got a message via ghost post (hilarious I know), and your were allowed by the ghost police to visit your child, wouldn't you visit your dying loved one?"
He is speaking from the perspective of something that no one has ever experienced. He is asking you to imagine yourself as a ghost to make his argument; and after that assumption I pretty much tune out.